Dear teams,
We need your help to test some changes in the simulator. Please, check out this thread:

Thanks!
Felipe.
@Leo Thanks. Could you please create a pull request with your fix to our repository?

However, this is still a workaround and I'll most probably create an issue in Webots repository.
@adrianmatejov I have created a pull request on the repository with the fix.
Hey, SoccerSim teams!
I am posting on this thread to try to reach more people.
After a successful Demo competition in February, the next event will be the official Qualification Tournaments in May 2021, open for participation to any team that would like to register.
Qualification Registration deadline: May 17'th 2021
Qualification Code submission deadline: May 24'th 2021
For more information, check out the link below:
https://robocupjuniortc.github.io/rcj-soccer-sim/
Cheers!
Felipe.
Hi,
My team has found an interesting and funny ending scene when one of their simulation finished: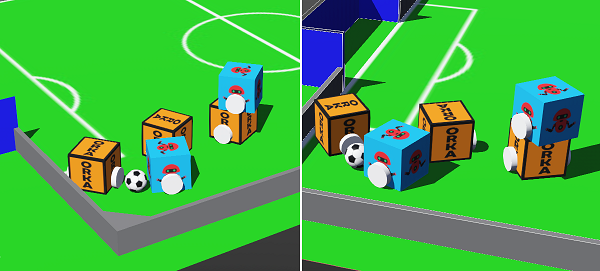 Since this was just the finishing scene of a simulation, we only can assume that until a replacement to a neutral spot would not happen for any other reason, the traveling robot probably would be trapped on the top of the other robot (having a nice panoramic overview of the field and conserving some fuel though

). This issue seems to be extremely rare (has only occurred once that we managed to notice), so probably the issue's severity is quite low.
Anyway, as a nice to have bug fix solution, maybe the referee.utils is_outside(x, z) should be extended by a 3rd dimension? Like is_outside(x, z, y)?
Best regards,
Robert
Thanks @rlaszlo, that's a very nice bug report!
It seems we won't make it to a hotfix but we'll try to clean it up after the craziness of the June competition passes.
Thanks again!