Hello! Where can i see the results on stage and who won first place?
Like it was in 2019 https://2019.robocup.org/junior-league-results.php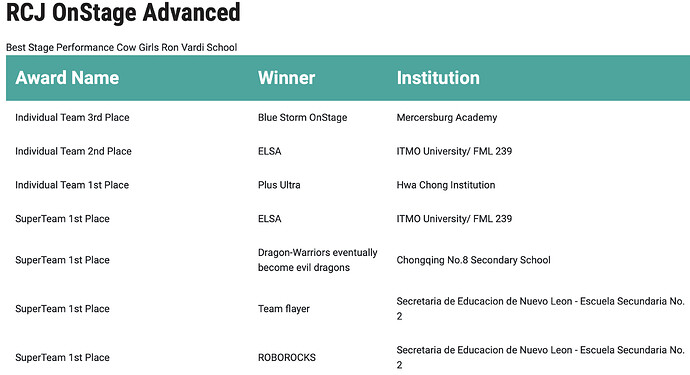 I join the question. Will the rankings be available?
Sincerely,
Friendly Friends team
Hello everyone,
the judges are writing individual feedback letters for each team at the moment that are going to include some kind of scores. We can't give you a full ranking, but we're currently discussing what will be included in the individual scores.
These letters should go out by the end of this week. Please keep an eye on your E-Mails. We will inform you here when all letters have been sent out.
The results can be found on our OnStage Homepage. They will soon be added to the general results page as well.
Tnx for info!



Hello! Any news?

how soon?


Hi. Unfortunately I don't know when they will be available there. I gave the information to the IT team.
But you won't find more than a link to our beautiful OnStage Homepage there anyway. Rescue only has links to their homepage as well.
You can now find the link to the results on the RoboCup Homepage.
Btw we are working on a better website for the next years. We know that the current solution is not very beautiful.